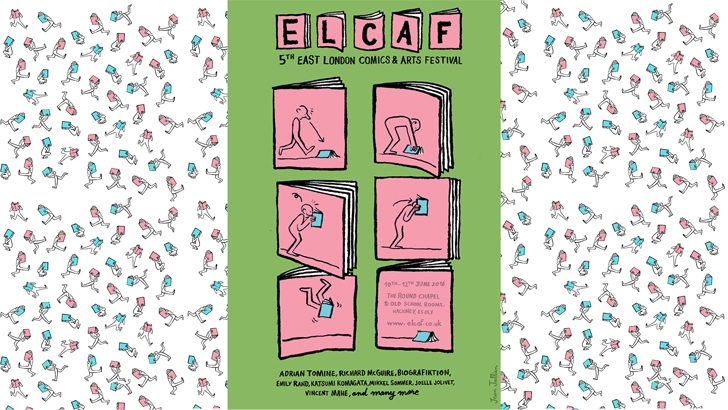 East London!  It's almost time for ELCAF!
The fifth annual East London Comics & Arts Festival is our favorite comics event, and this one's going to be the best yet!  In addition to hosting genuine superstars like Adrian Tomine and Richard McGuire, this year's ELCAF features a slew of events led by some of our favorite Nobrow artists.
Here are the events we'll be checking out this Saturday:
Robert Hunter
June 11 / 1:00 pm – 2:00 pm
£5
Robert Hunter is a London-based illustrator who works with traditional drawing and printing techniques to produce his otherworldly picture narratives. Rob has published a number of books including The New Ghost, and a collaboration with Maccabees singer Orlando Weeks called Young Colossus. Join him as he talks about his most recent foray into animation accompanying his illustrated picture book retelling Rudyard Kipling's classic Jungle Book.
Dieter Braun
June 11 / 2:30 pm – 3:30 pm
£5
German illustrator Dieter Braun will join ELCAF to talk about the creation of his recently published english edition of Wild Animals of the North.  An illustrated study of the Northern Hemisphere's wild animals, this biologically accurate encyclopaedia is the first of a series of books for children.
Vincent Mahe
June 11 / 3:00 pm – 5:00 pm
FREE with ELCAF ticket
Join illustrator Vincent Mahe in a game of exquisite corpse using a template based around a level in a building. Draw, paint, add characters and help to populate this building, which will grow over the course of the workshop, creating a giant vertical Leporello.
Biografiktion – Paul Paetzel
June 11 / 5:00 pm – 7:00 pm
FREE with ELCAF ticket
Visual storytelling can be simple and a lot of fun. Join illustrator Paul Paetzel from Edition Biografiktion in this exciting drawing workshop – using a character based on yourself, put your alter ego into a variety of backgrounds and see what kind of story evolves. The results will be sights seen through the eyes of our comic heroes.
Lorena Alvarez
June 11 / 5:30 pm – 6:30 pm
FREE with ELCAF ticket
Lorena Alvarez Gómez is a Colombian illustrator based in Bogotá, Colombia. She alternates her work as a freelance illustrator with writing and drawing her own stories, and her interest in colour language and its formal qualities result in bold and unusual palettes. Lorena will talk about personal projects and the process of her first comic book with Nobrow titled Nightlights – a story about how our fears can hold us back and distort the way we see our reality.
and here's what you've gotta see on Sunday:
Mikkel Sommer – London Jungle
June 12 / 11:00 am – 5:00 pm
FREE with ELCAF ticket
Join Berlin-based Danish illustrator Mikkel Sommer as he makes a colourful, 3D diorama (otherwise known as a miniature theatre) based around the theme of a 'London Jungle'. He will be needing your help to draw, cut, paint, fold and glue, because in reality, he has no idea what he is doing. People of all ages are welcome. Kids even more so.
Alexis Deacon
June 12 / 11:30 am – 12:30 pm
£3
London-based children's book writer and illustrator Alexis Deacon will be discussing his work at ELCAF this year. He has twice been shortlisted for the Kate Greenaway Medal, and is a two time recipient of The New York Times Best Illustrated Children's Books Award. His well-loved picture books include Beegu, I am Henry Finch and Slow Loris, and he was one of Booktrust's ten Best New Illustrators in 2008.
This ELCAF is really going to be something special, and there are so many more fun events and guests for you to see!  Make sure to check out the ELCAF website for all the sweet details.  We'll see you there!