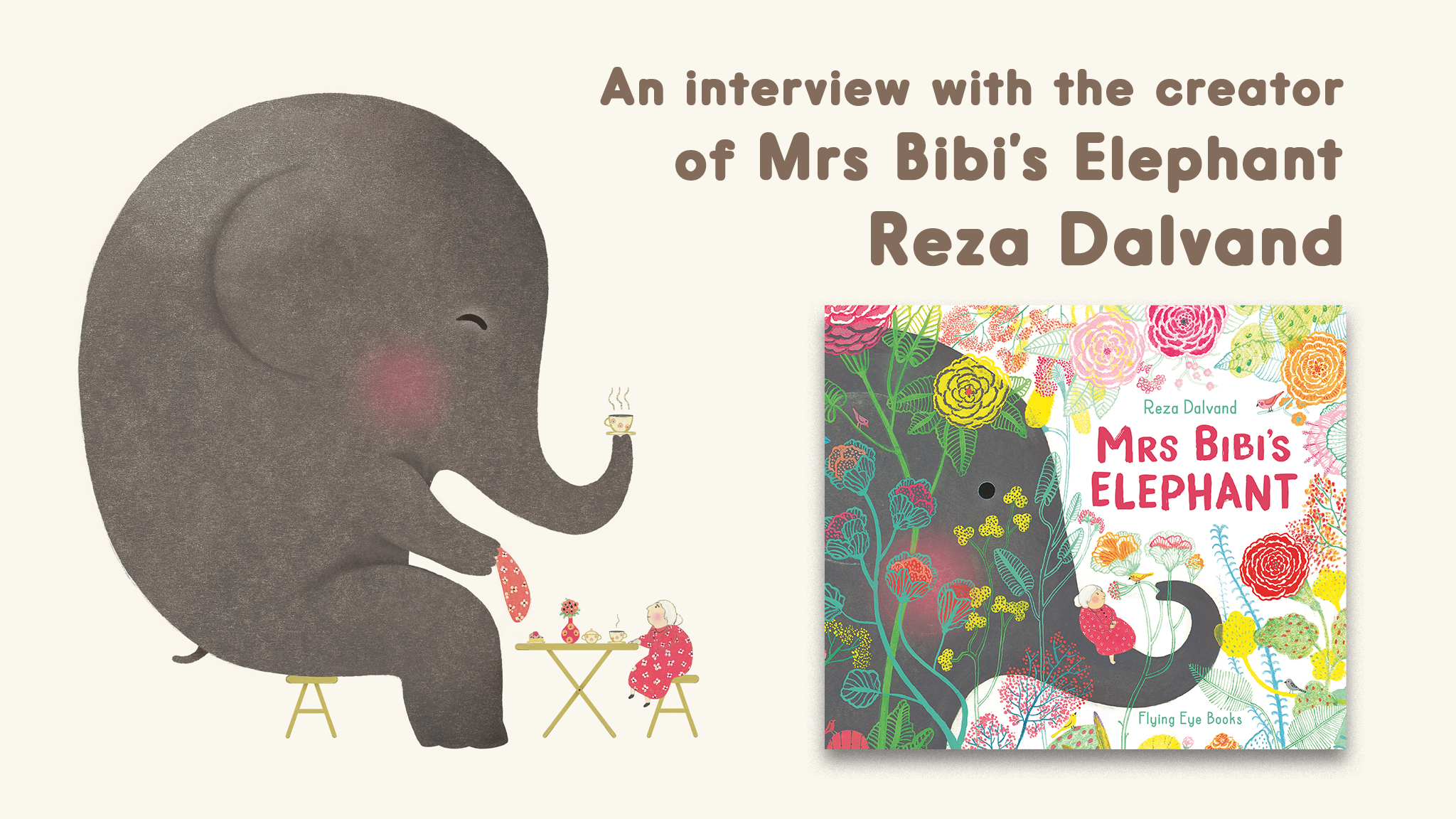 Just as spring sprung, and the blossom bloomed (and the world went into lockdown) in April, we released Mrs Bibi's Elephant beautifully illustrated by talent Reza Dalvand, a Tehran-based illustrator and author of children's books.
A heart-warming story with a message as big as an elephant, this fanciful tale of friendship between an eccentric lady and her beloved pet is as poignant as it is beautiful!
Eager to know more about Reza's new book and the process behind it? We caught up with him to tell us more on this gently uplifting tale that has the feel of a modern fable and is a timely reminder about the importance of friendship and acceptance.
Flying Eye Books: Mrs Bibi's Elephant is a charming story about a lady and her beloved pet. What inspired you to write this story? 
Reza Dalvand: The base of the story was from a few years ago, when my neighbour had a cat. She was an old woman who lived with a cat and she spent all her time with that cat. It was a little weird to others, but I thought they were so cute. So, I mixed it with so many dreams and a drama, and of course a giant elephant! 
FEB: Is there a meaningful message that you want to teach children through Mrs Bibi's story? 
RD: Yes, I would love for the readers to feel the love and friendship and to understand and accept different thoughts and lifestyles. And I refer to the last page of the book, I hope everyone learns that home is more than just a place for fancy objects and economics. It's a place for living.
FEB: What do you love most about writing and illustrating for children's books? 
RD: Being a creator! It's super when I think about an idea, and then I write, illustrate and give it to children! I can share my dreams, my thoughts and my emotions with others! It's wonderful that I can be a part of families around the world. When I write and illustrate a book, I think how can I be effective. I'd like children back to my books several times and learn, enjoy and laugh.
FEB: The illustrations are as charming and beautiful as the story of Mrs Bibi and her elephant. Could you tell us about your creative process?
RD: Oh, thank you! At first, I choose a suitable paper, it's important to me. I prefer heavy and rough papers. Normally my sketches are without details (although the sketches of Mrs Bibi's Elephant were with details) and some of aspects come by improvisation and I don't know what will happen at the end! I finished the book by oil colour, pencil, crayon and marker. My favourite technique is oil colour in the mix with other tools.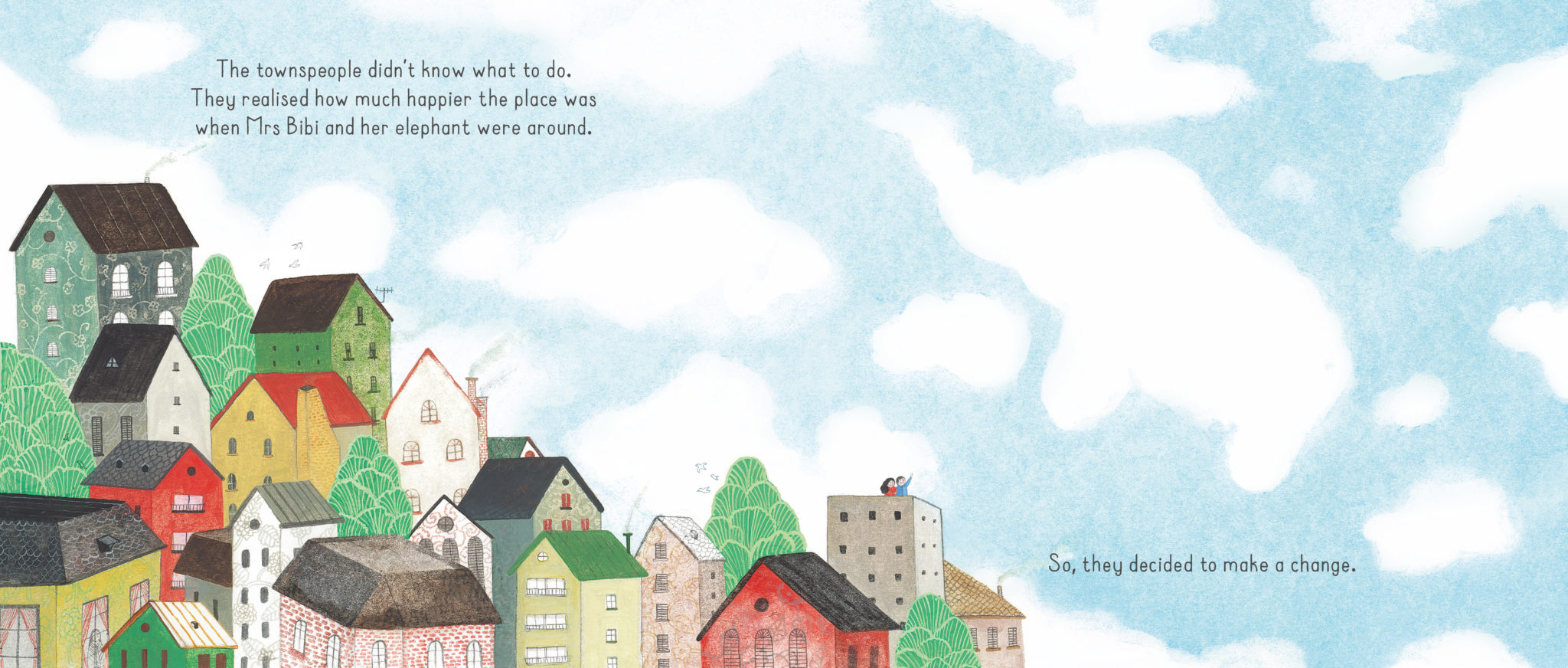 FEB: What sort of challenges do you encounter as the writer and illustrator? 
RD: I think to make a balance between marketing and personal creativity. I have a lot of personal great ideas for making a book, but I know some of them are not good for the market. It depends on the country, culture, language and marketing criteria. Sometimes the publishers ask me to change some lines or illustrations! Although I would love my books be without any change, I do know some of these changes are effective in selling the book and it's better to trust them :)
FEB: If you could have any animal as a pet just like in Mrs Bibi's Elephant, who would be your companion? And why? 
RD: I love birds but I think dogs are best friends for human. They have been with us for 15,000 years and we know each other pretty well. The story talks about love of nature and a big elephant is a symbol of kindness. So, we can have a love of elephant in the heart and keep a pet like a dog or a cat. I have a cute dog, too. Her name is Tzores (although we don't live together now).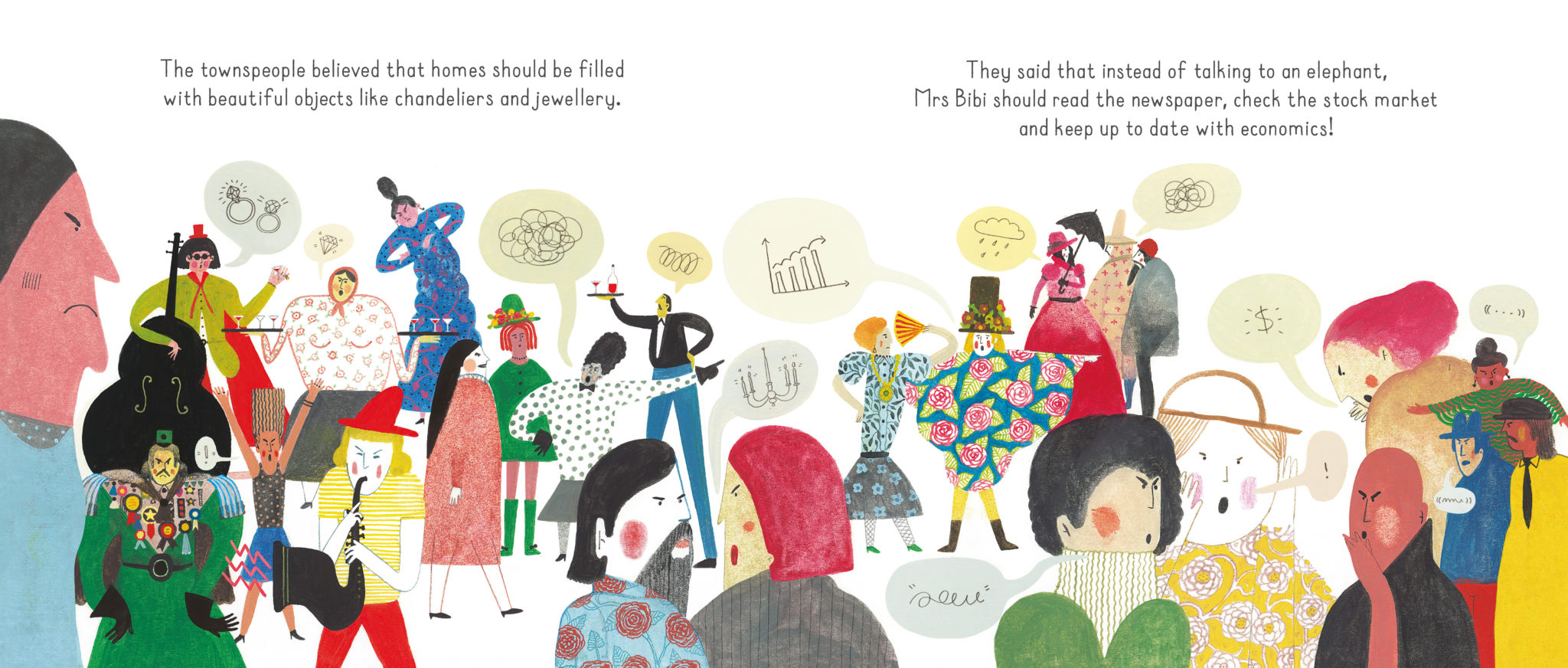 FEB: And finally, what advice would you give to other author/illustrators interested in making books for a young audience?
RD: Don't despair and keep going! Read and watch more of other artists, different types and genres! Talk with kids and ask them what they want, their dreams and fears. They will be your main fans. Try different materials and finally, you will find which one is yours. And take care, exercise and stay healthy! An artist needs a well body to create ;)