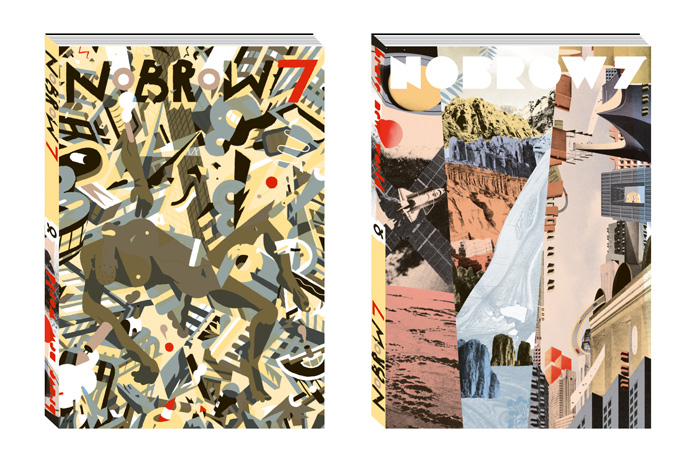 Above: cover work for Nobrow 7: Brave New World by Sam Vanallemeersch (left) and Eda Akaltun (right)
You've all been waiting, well the pre-order for Nobrow 7 is finally available! If you make yours now, you could be lucky enough to get a free A2 poster by either Sam Vanallemeersch or Eda Akaltun, be quick though because there are only 300 to give away!
Featuring 128 pages of full spot colour artwork with over 60 pages of Comics from the leading talents in the field from all over the world as well as 60 pages of the best in contemporary illustration!
45 Creative visionaries take on the theme to produce cutting edge comics and illustration in this fantastic large format anthology that has taken the illustration and comcis world by storm. With contributions from a group of artists that reads like the guest-list of an illustration/comics super-festival: Joost Swarte (Is That All There Is?, Fantagraphics), Tom Gauld (Goliath, D&Q), Jillian Tamaki (Indoor Voice, Drawn & Quarterly), Luke Pearson (Hilda and the Midnight Giant, Nobrow), Anders Nilsen (Big Questions, D&Q), Joseph Lambert (Winner of Ignatz award categories for 'Outstanding Anthology or Collection' and 'Outstanding Artist' awards for I Will Bite You), Ethan Rilly, Eda Akaltun, Andrew Rae, Rob Bailey, Henry McCauseland, Domitille Collardey, Michael DeForge, and many, many more, Nobrow 7 will exceed your expectations beyond measure.