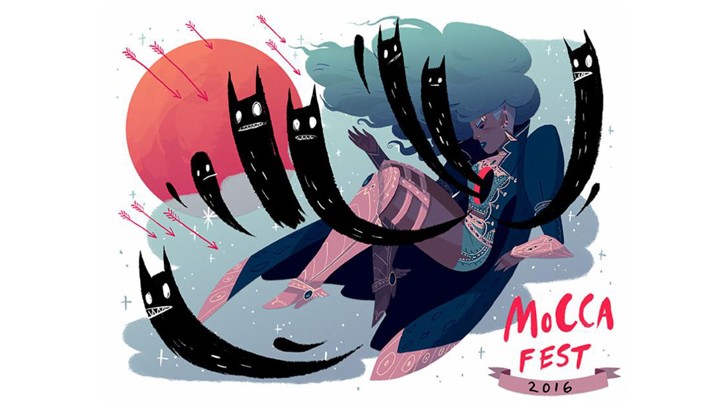 Oh yeah! Winter's over, the sun's out and we're getting PUMPED for our annual run of shows!
First up is MoCCA Fest 2016 on Saturday April 2nd and Sunday 3rd!  We've got a great one lined up for all of you with a Saturday jam-packed with four (FOUR!) signings from Nobrow artists.
Saturday at 12:00: Meet Sam Bosma, author of Fantasy Sports and Fantasy Sports 2. An EXTREMELY limited number of Fantasy Sports 2 will be available during this signing in advance of the book's July release.  Make sure to get in early to be among the very first to lay your eyes on what's definitely going to be the book of the summer!
Saturday at 1:00: Jeremy Sorese will be at our table to hang out and sign copies of his graphic novel, the boundaries-pushing, genre-defying epic Curveball, which was recently announced as a finalist for both the LAMBDA Literary Prize and the Slate Cartoonist Studio Prize!  Jeremy is one of the most talented and inventive cartoonists we've had the privilege of publishing, so make sure to come by and say hi.
Saturday at 2:00: Signing with Wren McDonald, author of the future revenge story Cyber Realm and the upcoming graphic novel about the super cool hacker hero SP4RX.  Wren's one of the most exciting new artists we've ever met, so trust us: you won't want to miss him!
Saturday at 2:30 to 3:00: A very rare appearance from the legendary Helen Borten!  Helen has been at the top of the heap in art and illustration since the 60's and we are so pleased to be reprinting her books.  We'll have copies of her beautiful children's picture books Do You See What I See? and Do You Hear What I Hear? available in advance of their May release, so make sure to stop by and take a look at this amazing legacy in action!
Then on Sunday team Nobrow will have all of our classics and hits, some hard-to-find limited editions, and who knows, maybe you'll catch a little peek at what's to come!
It's going to be a fun time so be sure to catch us at MoCCA Fest 2016 at Metropolitan West on April 2nd and 3rd!  Nobrow and Flying Eye Books will be posted up at Table A122-123!  See you there!