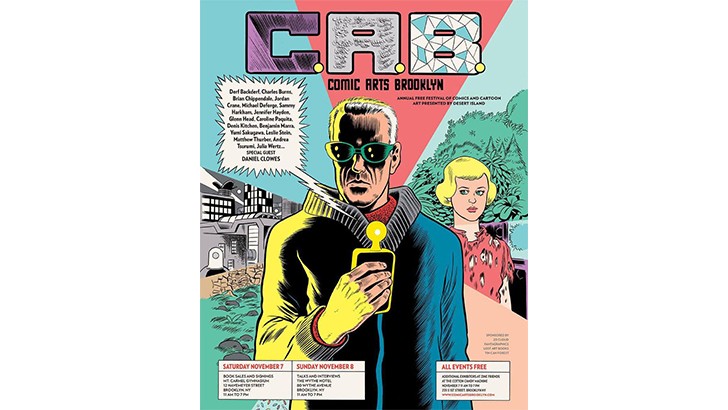 Alright!
It's time once again for one of our favorite comics shows, Comic Arts Brooklyn!  CAB is among the most exciting of the independent comics shows, hosting some of the biggest names in comics as well as some of the brightest new stars, and we are absolutely thrilled to be a part of it.
This year's CAB will be a big one for Nobrow as we will be debuting two new titles, Ryan Heshka's vicious Mean Girls Club and Jeremy Sorese's hotly anticipated epic Curveball!  This will be the first time these beautiful books will be available for sale in North America and trust us – you don't want to miss it.
But wait!  We can't just leave it at that!  We won't!  It's CAB so of course we've got a little something extra special planned.  On Saturday, November 7th we've got signings from an unstoppable triumvirate of Nobrow artists: Wren McDonald (creator of the frantic and brutal Cyber Realm), Jeremy Sorese (of the aforementioned Curveball), and Sam Bosma (the man behind the smash hit Fantasy Sports)!
Here's our Saturday schedule over at Table U21-22:
Wren McDonald signing at 12pm – 1pm
Jeremy Sorese signing at 1pm – 2pm
Sam Bosma signing at 2pm – 4pm
Wren McDonald signing at 4pm – 5pm
Jeremy Sorese signing at 5pm – 6pm
It's going to be a day full of fun and signings and most importantly NEW COMICS!
CAB will be happening at Our Lady of Mount Carmel Church (12 Havemeyer St., Brooklyn, NY 11211) on Saturday, November 7th at 11am.  It's free to attend, so if you're in Brooklyn this weekend, come through and check us out at Table U21-22 on the upper floor!
See you there!